In this article, I am just intending to disclose the background concept of my Raga-Mala series. In earlier times, I have composed a book concerning this concept which I contemplated as unique, however, regrettably, very few Indian artists have emphasized their interest in this concept. This idea is mutually related to music and art. I came across some of the most ancient mythological books of painting, deals with the grammatical aspects of painting. The author of those scriptures clearly explained the role of Indian monks and yogis, behind the creation of a wonderful concept of figurativeness based on the tunes of Indian classical music.
There are many opinions regarding this actual conceptualization of the monks, however, I haven't found any clear documentary evidence regarding those unique ideas; however, it is clear that the concept is great and unique. By adopting this concept, great Indian singers and critiques have considered that it is quite possible to portray a specific visible figurative form of a musical tune that consequently comparable to a specified season of nature.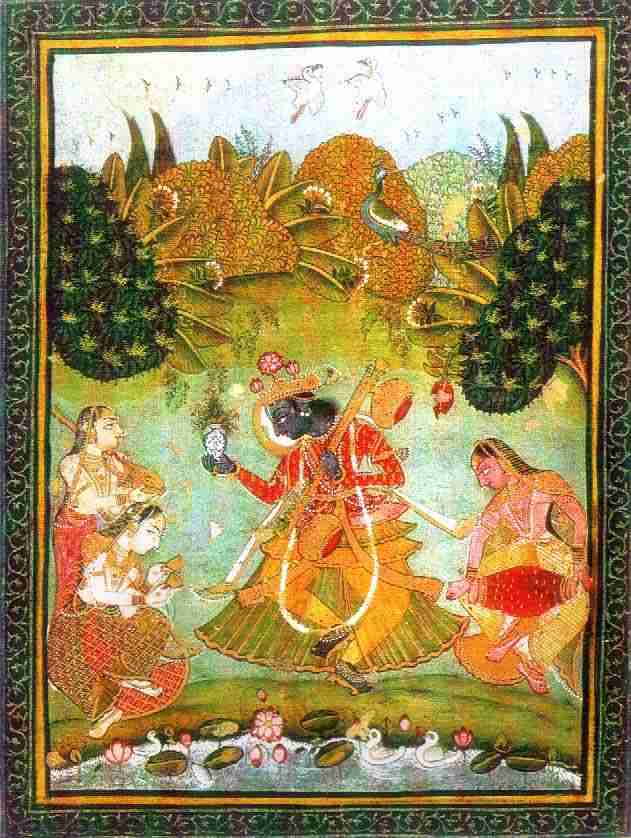 I made a series of paintings by following that ancient concept performed in the mythological period. I do not claim to be the artist, who depicted this musical series at first. During the 16th century, miniature artists of India depicted world's largest series of musical paintings, that included, more than 1000 paintings. It was the first time in the world when Indian classical music converted into painting and rhythms were visible on the canvas! I've tried to put forward the painting technique used during that period which I'll publish in next episode. I'll also try to discuss in next episode, the fundamental difference between the treatments of the miniature artists during the 16th-century vis-à-vis contemporary creation of mine.
In India, artists created a figure of God as a human by adopting the unique beliefs and imaginary descriptions of Hindu monks, which they clearly extended in mythological Vedic scriptures. After that, they thought, if it is possible to create a figure of God (which is non- visible matter), then why it would not possible to create a human-like model of musical rhythms and its tune, on canvas? It is well known that music also creates a specific feeling in human mind.
It is quite plausible to create a model of a specific musical tune that concurrently convey the impact of a specific season in human mind. Indian classical music is divided into six rhythms (which are most basic) and thirty-six sub-rhythms, which governs the six seasons of Indian climate. Not only that; the creators of those rhythms, also described their unique feelings behind these creations. They discovered that each season creates a specific impact in the human mind, and by following it, they created some rhythms which are very near to that specific seasonal feeling. They also define the specific time of use of every rhythm, which they consider the perfect for that specific rhythm.
According to their definition, –
Sree Raga (first rhythm) – perfect time – 5 pm to 8pm.
Basanta Raga (second rhythm) perfect time – 9 am to 12am.
Vairaba Raga (third rhythm) perfect time – 4 am to 6 am.
Magh Raga ( forth rhythm) perfect time – after 9 am.
Pancham Raga (fifth rhythm) time not found.
Nattanarayan Raga – no time mentioned, because this rhythm created for battlefield.
I requested a few Indian singers for the time of Pancham Raga, however, they were not sanguine regarding the perfect time associated with the rhythm. Moreover, I haven't found the time on that ancient book.
however, then they designed a human-like figure with their imagination by keeping up the relation with a particular season and related musical rhythm. Consequently, artists have successfully pressed out those unique imaginations on their canvas.
In Indian classical music, there are two parts, one is- "RAGA", and another is "RAGINI". RAGA is male, and RAGINI is female. RAGA (rhythm) is a basic part of Indian classical music, which is divided into six parts by following the six seasons of India. RAGINI is a sub-rhythm of the RAGA born by recomposing the basic rhythm. Each RAGA (rhythm) has six RAGINI (sub-rhythms). They just imagined as the wives of RAGA. As an example,"SREE-RAGA". It is the first rhythm of classical music and he has six RAGINIs respectively, Malasree, Tribani, Gouri, Vupali, Barati, and Kalyani.
Miniature artists of India, tried to represent that particular feeling of a specific tune by composing a various colors, like the various scales of tune. (G-sharp, b-flat, etc.) They divided colors in three shades and mixed those colors in several ways to create their unique feelings. I think, it is a beautiful game with six rhythms and varieties of colors.
To understand the emotions of Raga-Mala paintings, it is necessary to learn more about the Indian ancient human society and its beliefs related to the various aspects of mythological and spiritual myths. Those myths had the widest impact on human life and society. I personally visited several places in India related to those myths and have watched that still, those myths have a noticeable impact on the lifespan of those villagers which is unavoidable. In their social life they still respect and obey those ancient mythological cultures traditionally.
I am regretted to say that quite a few paintings of this series are now viewable in Indian National Art Gallery of Delhi, because the fact was the rest of all paintings of this series were smashed by a tremendous conflagration in London, during the time of an exhibition. That was the time of British period in India.
In 1958, the ministry of education brought eighty paintings of this musical series for the National Art Gallery of Delhi. But not a single one of those paintings obtained the signature of artist or mentioned the year of painting. Specialists and historians have recognized those paintings by researching the technique and color composition related to the approximate time period.
In the world of modern Indian classical music, still every singer makes their earnest reverence to this concept.